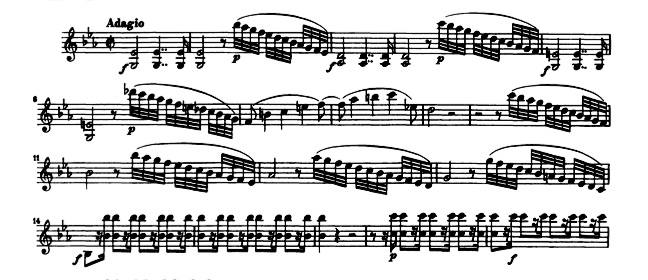 Recordings:
Herbert von Karajan: Berlin Philharmonic, 2005 (digitally remastered) Eighth note = 72-74
Leonard Bernstein: New York Philharmonic, 1967. Eighth note = 68-74
Hans Graf: Mozarteum Orchester Salzburg, 2010. Eighth note = 86
Sir Charles Mackerras: Prague Chamber Orchestra. Eighth note = 120 (Not a Recommended tempo!)
MIDI Practice Tracks:
These are Midi renderings with the first violin part removed. I really dislike the midi orchestral sounds, so I changed them all to the piano patch.
Eighth Note = 68
Eighth Note = 80
Video and Recordings from YouTube:
Karl Böhm: Wiener Symphoniker. (Eighth note = 76-80)

Christopher Hogwood: The Academy of Ancient Music. (Eighth note = 118)

YouTube redirect:
Fritz Reiner-Chicago Symphony Orchestra, 1953 (Quarter note = 37)