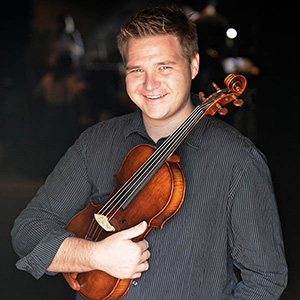 Michael is currently a substitute violinist for the Nashville Symphony Orchestra, Louisville Orchestra, and Fort Wayne Phil.  He has previously performed with the Erie Philharmonic (PA) and was a member of the Memphis Symphony Orchestra, and the Huntsville Symphony Orchestra.
In the studio, Michael has recorded for many award winning albums, video games, and movie soundtracks including Leonardo Balada's The Death of Columbus on NAXOS, Sony Playstation's Uncharted 4,  Aliens: Colonial Marines, The Unfinished Swan, MGM's soundtrack to Home of the Brave, as well as on recordings for OneRepublic, Keb Mo, Darryl Worley, David Phelps, Caitlin Rose, Larnelle Harris, and Sandi Patti.
One of the highlights of Michael's career was performing live on WSM at the Grand Ole Opry with country music legend Ray Price and the Cherokee Cowboys.  Michael also has performed live with multiple Grammy Award winning artists Casting Crowns, Gungor, Paper Route, Michael W. Smith, Selah, Steven Curtis Chapman, Natalie Grant, and Matthew West.
Michael graduated with honors from Carnegie Mellon University where he studied with Cyrus Forough, and also received a Masters of Music degree in violin performance from Belmont University as a student of Elisabeth Small. In the summers, Michael has been on the faculty of Belmont's String Crossings Camp, and is currently a violin faculty member of the Masterworks Festival
While preparing for orchestral auditions, the lack of resources for violinists led Michael to create orchestraexcerpts.com a resource which helps musicians prepare for and have a positive audition experience.
Michael and his wife Angie, a counseling professor at Grace College live in northern Indians with their tyrannical cat "Micetro." and son Ryan.
-Michael O'Gieblyn is an Endorsed Artist for Thomastik-Infeld Vienna.
"It is an extreme privilege and honor to represent Thomastik-Infeld. I have been using the Vision Solo Titanium strings on my 1949 Carl Becker violin for years and simply couldn't be happier with their performance."