Take Violin Lessons from Anywhere in the World
Convenience. Confidence. Privacy. Affordability.
Modern technology has made connecting with exceptional teachers a reality. Improving your performance has never been easier, more affordable or effective as it is today!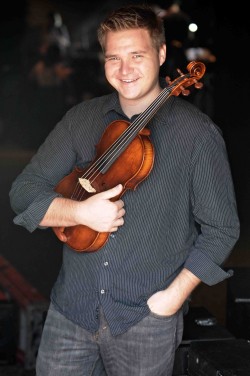 An accomplished violinist, violist, and versatile instrumentalist, Michael O'Gieblyn enjoys a full and varied career as an orchestral and studio musician. Currently a member of the Memphis Symphony Orchestra and the Huntsville (AL) Symphony Orchestra, Michael is also a substitute violinist for the Nashville Symphony Orchestra and the Louisville Orchestra.  He has previously performed with the Erie Philharmonic (PA) and the Österreich Vienna Classic Philharmonic's 2010 tour of China.
In the recording studio, Michael has recorded for many award winning albums, video games, and movie soundtracks including Leonardo Balada's The Death of Columbus on NAXOS, Sony Playstation's Uncharted 4,  Aliens: Colonial Marines, and Unfinished Swan, MGM's soundtrack to Home of the Brave, and Bounty Killer as well as on recordings for Keb Mo, Darryl Worley, David Phelps, Larnelle Harris, and Sandi Patti.
Michael graduated with honors from Carnegie Mellon University where he studied with Cyrus Forough, and also received a Masters of Music degree in violin performance from Belmont University as a student of Elisabeth Small.
While preparing for orchestral auditions, the lack of resources for violinists led Michael to create ViolinExcerpts.com a resource which helps violinists prepare for and have a positive audition experience.  The overwhelming success and requests from other instrumentalists inspired the expansion and creation of parallel sites for viola, cello,and double bass.
Michael, his wife Angie, and son Ryan live in south Nashville with their tyrannical cat "Micestro."
Take the next step towards achieving your goals in music:
Inquire about Lessons:
Send a message to Michael to get started. Please include your availability for lesson times in your message.
[contact-form-7 id="5615" title="Contact form 1"]