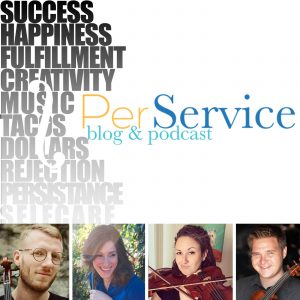 Welcome back to the Per Service Podcast!
It's so good to be back here with you all again.  I know some of you were worried that we weren't coming back after a long break this summer….but we are definitely back in gear and have some great episodes coming up this season.
If you're new to the podcast, this is a show for classical musicians who are discovering what it means to have a happy and successful life in the performing arts. Every two weeks we host these conversations to talk about the challenges we face and some inspiration and encouragement we have found to overcome them.
With that said, this isn't a typical episode today.  We took some time off this summer, and a lot has happened in that time. So rather taking up a lot of time in an episode to fill everybody in, we're doing it here in this season preview of sorts.
In short your hosts are Anna Luce, a violinist in New York City, Christian Marshall a violist in Graz Austria, Jessica Wiersma-a violinist in Indianapolis, and me I'm Michael O'Gieblyn, I'm a violinist in Boca Raton, Florida which still sounds funny to say
One last thing, we would like to thank Ficks Music Publishing for providing the hosting for this show and for standing by us during our summer hiatus. For your sheet music needs, check out ficksmusic.com
They've been super busy this summer, not only do they carry sheet music for every instrument, but they also have sheet music for vocalists as well.  For the month of September, they are offering free shipping on ALL orders- as in, no minimum purchase.
That's crazy! 
But best of, as a thank you to our listeners if you use the promo code PERSERVICE, to get 10% off your order!
visit www.ficksmusic.com
Listen to the Podcast Below: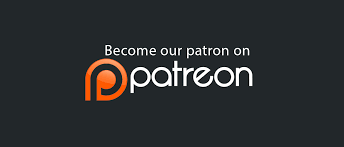 Becoming our patron means that you're pledging the monthly dollar amount of your choice to support our show. In return, Patreon contributors will receive exclusive access to:
Behind the scenes content (what goes on when we're not on our best behavior)
Bonus content (all the good stuff that doesn't make it into the final product due to time constraints)
PLUS we'll publicly thank you in person on air for your support.
It's basically a monthly subscription with all sorts of cool perks. Most importantly, you can adjust your pledge anytime you like!
Just like Haydn needed Prince Esterházy and libraries needed Andrew Carnegie, WE need YOU to be our Patron so we can keep creating great, free, inspiring shows.
Share your #GigOfTheWeek:
Follow @PerServicePodcast on Instagram
Thank you to Ficks Music for providing our Hosting:

Add Your Voice:
Either written or recorded
How have you found you could make more money as an artist?